Are you thinking to buy a new or used jon boat in Georgia?
Discover jon boats for sale in Georgia. New and used jon boats for sale.
Are you looking for jon boats for sale in Georgia?
JonBoatForSale.com is an up-and-coming jon boat classifieds website that makes a wonderful start to your search. Jon boats are a great bet if you want to get out on the water. Those boats can be a great choice for anyone interested in fishing, hunting, boating, or ease of exploring the water. The flat bottoms of jon boats promote stability in the water. Jon boats make a wonderful beginner boat, but many become such fans it is the only type they are interested in. You can experience the value of the jon boat whether you are considering a brand new model or a used one. If you are unsure whether new or used is the right option for you, there will be some considerations listed below.
Newest jon boats for sale in Georgia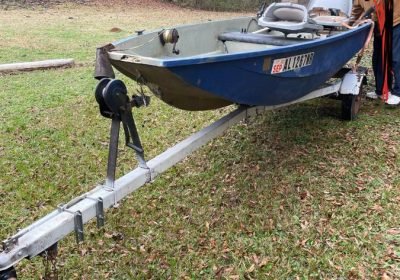 12 ft jon boats for sale in Georgia
14 ft jon boats for sale in Georgia
No Listings were found matching your selection.
Find jon boat for sale in Georgia
Is Georgia a good place for jon boats?
Georgia, located in the southern United States, boasts a great climate for near year-round fishing. The Chattahoochee River travels through most of Georgia, it is 430 miles long! Here you can fly fish and expect an abundance of trout. Another great spot is Lake Hartwell on the border of Georgia and South Carolina. About a 2-hour drive from Atlanta, it is a popular spot for many bass tournaments with many different attractions. If you are farther south, Lake Seminole is by the border of Florida and Georgia. You can find some record-breaking bass in Lake Seminole thanks to the plentiful vegetation in the lake.
For fun on and off the lake, you can try Stone Mountain in Georgia. Golf courses, festivals, and different park attractions are enough variety to keep everyone entertained. A great jon boat lake in Georgia is Lake Olympia by Buchanan. This is a smaller lake in a more rural setting. A perfectly secluded place that is off the beaten path. There is a great variety of options for jon boats and fishing in the Peach State. Many people are big fans of jon boats and there is no shortage of different recommendations and ideas of where to go next.

Purchasing new
Jon boats in general are often an economical decision so at least considering new is worthwhile. A brand new large purchase can be a daunting thing. New purchases often come with warranties and insurances, in case of any problems that might come up through no fault of your own. If you have a list of things you would like to be included on your Jon boat, buying new can offer you all those specific customization options. When some of these fit your needs now the question is where to find a new Jon boat? To answer it – here are some options for you:
An all-new website. Made by fans of Jon boats to cater to other fans. Curated listings. No excessive posts for unneeded bulk.
2. Boattrader.com
Well known and used by many. A wide variety of options, not specific to jon boats though. Overwhelming if not sure of the exact specifications.
3. Dealer or Brand Websites
A great option if you are brand loyal. Dealers often deal locally, location will vary drastically as to where they are. Can be priced at a premium due to location or brand options.
Purchasing used
Purchasing a used Jon boat is also a viable option. Used can be even more cost-effective due to condition or need to make a timely sale. Often used is associated with private sales, this can depend on location and where you are looking. Used sales can have some drawbacks. Not knowing the history or maintenance of a jon boat can be an issue. Unfortunately, there are usually not many guarantees when buying used. However, this should not deter you from the possibility of a great deal that can fit your needs perfectly. Here are some websites and other options when considering used options.
Also offers used options. As mentioned before, concise listings are brought to you by those who know jon boats.
2. Private Trade Websites
Classified sites such as Craigslist or Facebook Marketplace. Dealing with individuals often selling their jon boats. Listings can vary, from a few options to many depending on varied factors.
Is a jon boat right for you?
Jon boats are a simple watercraft choice. Jon boats can be easy to transport allowing you a variety of places to travel where larger boats would not be allowed. They are smaller and are often more cost-effective when compared to other types of boats. If you are a beginner when it comes to boats, a jon boat could be a great option. However, they are adored by those with decades of experience as well. Certain bodies of water have restrictions on size and engine power. Jon boats' smaller size allows them to go into narrower places that would be unavailable to larger boats. If any of these traits sound like a good fit to you, it may be time to consider whether a new or used purchase is right.
Ready to make a decision?
There are quite a few items to consider with a large purchase. New and used purchases both have advantages and disadvantages. Taking into account what you will want to accomplish will help determine which is right for you. Indiana is a great place to enjoy a Jon boat. The featured jon boats in Georgia are presented above.