Are you thinking of buying a new or used Jon boat in Indiana?
Discover Jon boats for sale in Indiana. New and used Jon boats for sale.
Are you looking for Jon boats for sale in Indiana?
JonBoatForSale.com is an up-and-coming Jon boat classifieds website that makes a wonderful start to your search. Jon boats are a great bet if you want to get out on the water. These boats are classified by their flat bottoms, smaller size, and are often inexpensive. The flat bottoms of Jon boats promote stability in the water. The smaller size allows these boats a lot of different options to waters that would be unavailable to larger boats. Jon boats make a wonderful beginner boat, but many become such fans it is the only type they are interested in. You can experience the value of a Jon boat whether you are considering a brand new model or a used one. Indiana has many hidden gems of waterways to explore and is a perfect place if you are interested in a Jon boat purchase.
Newest Jon boats for sale in Indiana
16 ft Jon boats for sale in Indiana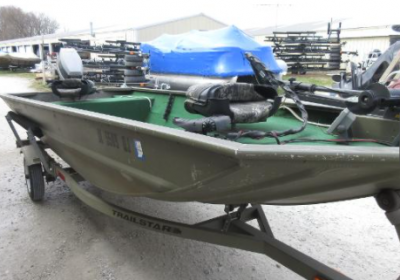 18 ft Jon boats for sale in Indiana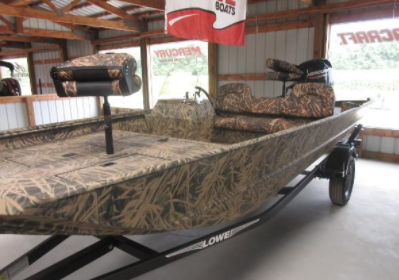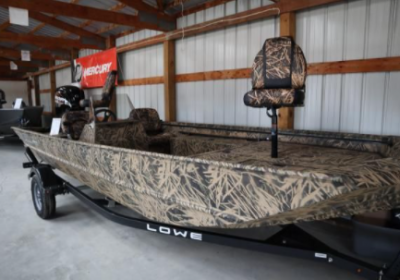 Find Jon boat for sale in Indiana
Is Indiana a good place for Jon boats?
Indiana has a great selection of water to explore. Tippecanoe Lake in Kosciusko County is a nice place for boating and fishing. The historical surrounding towns make it a great place to visit. Another interesting location in Indiana is Clear Lake in Fremont. The name Clear Lake is no mistake, it offers remarkable visibility and a fun recreational trip. The Indiana Bass Federation is a unique group that offers youth fishing tournaments and an interesting schedule that takes anglers all over the state of Indiana. Lake Lemon in Brown county near Unionville Indiana is a large and calm lake that touts being one of Indiana's top bass fisheries. There is a surplus of notable waterways to explore in the state. Indiana has warm summers but can have some moderate winter weather as well. The winter months may be an off time for boating however, many use this time to take up ice fishing.

Is new or used a better option?
There is not a clear answer to whether a new or used option is correct for you. Everybody will have different needs and wants from their Jon boat. A new purchase can have many benefits. Buying new can allow you to pick and choose what you want in your Jon boat. Also, buying new may come with warranties you would be hard-pressed to find in a used purchase. However, used purchases have unique benefits of their own. Used options are often cost-effective and ready to be sold promptly. Private sellers can be motivated to sell for a variety of reasons. This motivation can lend you a great deal you would otherwise not find. Used options drawbacks could include not knowing the exact history of the vessel and not having any guarantees once purchased. Unfortunately, some sellers may not be aware of the complete history of their Jon boat. It should be taken into consideration any maintenance that may need to happen after your purchase. It should also be noted that Jon boat maintenance can be lighter when compared to that of a larger or more complex boat option.
Taking into consideration the different pros and cons to new or used Jon boats, there is also pros and cons to the different options of where or how to purchase. Here are some options for both new and used.
A newly developed classifieds site. Created by fans of Jon boats specifically, the focus is all on fans of the same interest. As a newer website, the listings are not excessive, offering more concise posts.
2. Boats.com
Offers new and used options. Powerboats, sailboats, and personal watercraft. Listings are numerous. Different options can be overwhelming especially if only searching for Jon boats.
3. Boattrader.com
A popular website that has been around for a long time. Similar to boats.com offers a wide array of options in addition to different services. Can be difficult to sort through the huge amount of listings.
4. Brand Websites
Such as LundBoats.com or SeaArkboats.com. Great if you want a specific brand. Offer the customization you might want, but often with a tall price.
5. Private or Personal Sales Sites
For example, Craigslist or Facebook Marketplace. A great option if deciding to purchase used. The popularity and use of sites can vary. Depending on specifics, may or may not be a lot of options. Fewer safeguards when private purchases are made.
6. Local Marina or Dealer
Dependent on location, you may not have a physical location nearby. Can be a premium price because of location. A business could offer better warranties and convenience in the event of an issue with your purchase.
Ready to make a decision?
There are quite a few items to consider with a large purchase. New and used purchases both have advantages and disadvantages. Taking into account what you will want to accomplish will help determine which is right for you. Indiana is a great place to enjoy a Jon boat. A variety of inland water, as well as access to the Great Lakes, makes it an interesting place. There are some featured Jon boats for sale in Indiana above.