Are you thinking to buy a new or used jon boat in Illinois?
Discover jon boats for sale in Illinois. New and used jon boats for sale.
Are you looking for jon boats for sale in Illinois?
JonBoatForSale.com is an up-and-coming jon boat classifieds website that makes a wonderful start to your search. Jon boats are a great bet if you want to get out on the water. Those boats can be a great choice for anyone interested in fishing, hunting, boating, or ease of exploring the water. The flat bottoms of jon boats promote stability in the water. Jon boats make a wonderful beginner boat, but many become such fans it is the only type they are interested in. 
You can experience the value of the jon boat whether you are considering a brand new model or a used one. If you are unsure whether new or used is the right option for you, there will be some considerations listed below.
Newest jon boats for sale in Illinois
12 ft jon boats for sale in Illinois
No Listings were found matching your selection.
14 ft jon boats for sale in Illinois
16 ft jon boats for sale in Illinois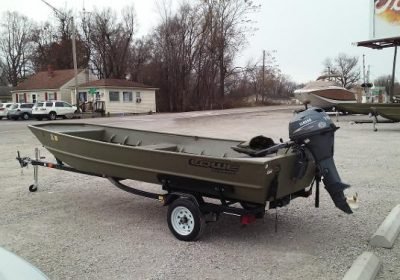 Find jon boat for sale in Illinois
Purchasing new or used?
If you are unsure if purchasing new or used is right for you, we will go into the pros and cons of each. Purchasing a used jon boat can be a good deal. Listings of used jon boats will vary in quantity and be dependent on your location or how far you are willing to travel. A used price will often be the lowest you will find. It may take time to find exactly what you what. Used purchases deal a lot with private sellers. There are some concerns to take into account when considering a used purchase, however, with the right tools, you can make a great purchase.
The brand new jon boat could be right for you as purchasing new is also a practical option. You will have a lot of choices in the specifics of your jon boat, being able to tailor it to whatever you are wanting to use it for. A new purchase will generally have manufacture warranties and guarantees you would not have with a used boat. Jon boats are cost-effective all around, however, a new purchase will more than likely be more than its used counterparts.
Purchasing new
A brand new large purchase can be a daunting thing. Jon boats in general are often an economical decision so at least considering new is worthwhile. If you have a list of things you would like to be included on your jon boat, buying new can offer you all those specific customization options. New purchases often come with warranties and insurances, in case of any problems that might come up through no fault of your own. If some of these fit your needs now the question is where to find a new jon boat? Here are some options:
An all-new website. Made by fans of jon boats to cater to other fans. Curated listings. No excessive posts for unneeded bulk.
2. Boattrader.com
Well known and used by many. A wide variety of options, not specific to jon boats though. Overwhelming if not sure of the exact specifications.
3. Dealer or Brand Websites
A great option if you are brand loyal. Dealers often deal locally, location will vary drastically as to where they are. Can be priced at a premium due to location or brand options.
Purchasing used
Purchasing a used jon boat is also a viable option. Used can be even more cost-effective due to condition or need to make a timely sale. Often used is associated with private sales, this can depend on location and where you are looking. Used sales can have some drawbacks. Not knowing the history or maintenance of a jon boat can be an issue. Unfortunately, there are usually not many guarantees when buying used. However, this should not deter you from the possibility of a great deal that can fit your needs perfectly. Here are some websites and other options when considering used options.
Also offers used options. As mentioned before, concise listings are brought to you by those who know jon boats.
2. Private Trade Websites
Classified sites such as Craigslist or Facebook Marketplace. Dealing with individuals often selling their jon boats. Listings can vary, from a few options to many depending on varied factors.
Why buy a jon boat in Illinois?
Illinois is a midwestern state that shares a border with the Mississippi River. This state has an abundance of freshwater and many recreational activities. There are many boat launches along the Mississippi River that borders Illinois. Fishing is also plentiful in the river, there are walleye, sauger, bass, and catfish. Uniquely named Devils Kitchen Lake near Marion is one of the deepest and clearest lakes in Illinois. The lake has a large rainbow trout and largemouth bass population. There is a 10 horsepower boat limit which can be a perfect match for smaller jon boats. The Devil's Kitchen Lake also has camping opportunities around it. 
Lake Springfield is a close trip to the city capital of Illinois of the same name. It is a 4200-acre reservoir. Multiple public parks and boat launches are found around the lake and Springfield, Illinois. With options to fish from the shore or by boat, this is a place with many options. Lake Shelbyville hosts many major tournaments throughout the year. It is a great central location between Indianapolis, St. Louis, and Springfield. This lake has set the biggest fish record for white bass and catfish at one time. There is fishing, boating, hiking, and even a golf course located by Lake Shelbyville. Illinois is a great state for outdoor recreation.
Ready to make a decision?
Illinois is a great place to enjoy a jon boat. Taking into account what you will want to accomplish will help determine which is right for you. There are quite a few items to consider with a large purchase. New and used purchases both have advantages and disadvantages. Here are some featured jon boats for sale in Illinois that can get you started.